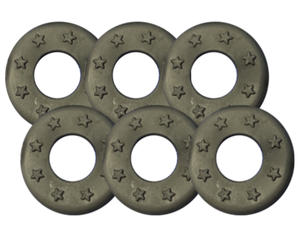 Shirt Guardian - Universal Button cover (6 pack)
Sale price Price $9.95 Regular price
FREE FIRST-CLASS USPS SHIPPING
The Shirt Guardian button cover prevents holes by introducing a cushioned barrier between your jean button and shirt.  No more friction and No more holes.  
Includes 6 universal button covers.  This NEW DESIGN is easier to install and one style fits most buttons.  
Our patented device easily slips over your button to protect your favorite shirts.  The Shirt Guardian was designed to stay in place.  No need to remove it while buttoning your pants or washing your clothes; NO FUSS, NO HOLES.
SKU: V206
UPC: 00867480000339